EN & ESP
It is now only four months until we welcome the international arts and culture community to Kuala Lumpur for the 8th World Summit on Arts and Culture, which we are co-hosting with the National Department of Culture and Arts (JKKN). Which means this month we are all about the Summit! Registration is now open and in this issue we share some of the compelling reasons why you should join us, including:
The programme for the 8th World Summit explores and embraces the theme of Mobile Minds: Culture, Knowledge and Change. Over the days of the Summit, we will identify global drivers of change, the issues and opportunities that arise from these forces, and their impact on the arts and culture sector; we will explore how creative practices respond to change, converge with its possibilities, interrogate its direction and actively diverge from its trajectory; and we will look at how we - as an international community - make tangible change for the future.
In the spirit of change, to enhance dialogue we have also redesigned our session formats to be more participatory, to ensure the greatest possible contribution from the experts in our network (by which we mean you). This includes a Lepak session that will bring all delegates together to explore ideas of continuity, tension and change in a world café style format; a series of Future Crafting participatory workshops led by creative practitioners; as well as long tables and case study sessions. Delegates will also hear from leaders in the field, who will share their insights and provoke new ways of thinking about current issues.
Find more information and read the programme online
---
We are very pleased to release information on the first group of speakers, panelists, presenters, provocateurs, facilitators and workshop leaders, and acknowledge the tremendous support of the IPAC members in shaping this programme.
So far, the diverse and international lineup includes:

You can learn more about our expert speakers and programme participants online and we will keep you posted with more information as new names are announced.
---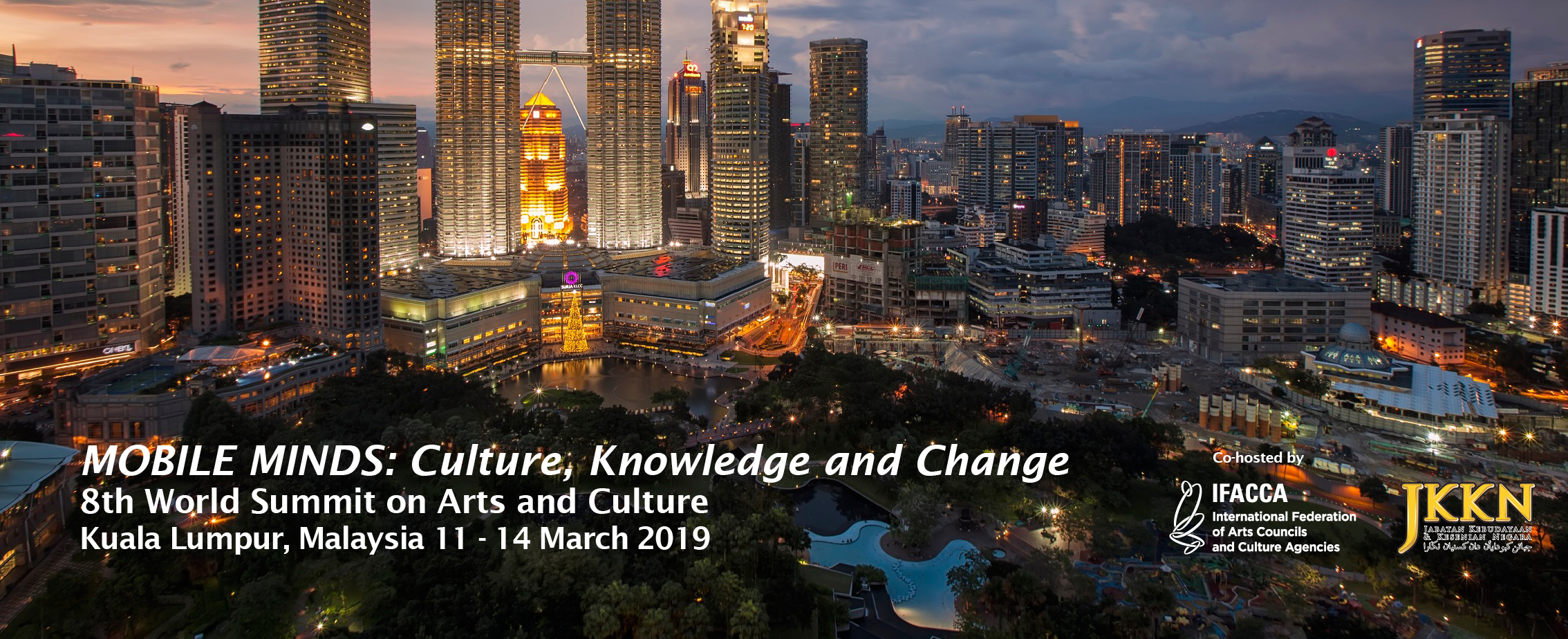 In the heart of Southeast Asia, Malaysia is a bridge between continental and island Asia, and a gateway to the region. Its diverse cultural landscape includes three of Asia's oldest civilisations - Malay, Chinese and Indian - as well as Indigenous communities in Sabah and Sarawak. Kuala Lumpur is a modern and vibrant city that balances contrasts between old and new, with Moorish styled buildings standing shoulder to shoulder with towering skyscrapers. Alongside recent social and political shifts in the country, such diversity and contrast make Malaysia a fitting setting in which to explore issues of culture, knowledge and change and deepen understanding of the region.
The Summit will open at the tropical Perdana Botanical Gardens, within the city's Heritage Park and delegates will have the opportunity to explore local heritage, arts and culture through the cultural programme.
Read more about Malaysia and Kuala Lumpur, the host city
---
THE PEOPLE
The Summit is all about the people. It brings together leading policy makers, researchers, managers and practitioners from the arts and culture sector from around the world to address critical issues and examine how governments, cultural organisations, creative practitioners, and citizens can – and do – work together to actively lead change. It is personal connections, partnerships and professional exchange that make this possible, and the Summit is a rare opportunity to meet new people with a shared vision and further strengthen your existing relationships.
We hope to count you among the people that contribute to these important conversations and drive positive change for our sector.

---
Estamos a sólo cuatro meses de acoger a la comunidad internacional en las artes y la cultura en Kuala Lumpur para la 8ª Cumbre mundial de las Artes y la Cultura que coorganizamos junto con el Departamento Nacional de Cultura y Artes (JKKN) de Malasia, así que este mes las noticias son todas sobre la Cumbre. La inscripción ya está abierta y en esta edición compartimos algunas de las razones de peso por las que debería acompañarnos:
EL PROGRAMA
El programa de la 8ª Cumbre Mundial explora y el tema Mentes dinámicas: Cultura, saber y cambio. Durante los días de la Cumbre, identificaremos los motores globales de cambio, los problemas y oportunidades que surgen de estas fuerzas y su impacto en el sector de las artes y la cultura. Analizaremos cómo responde al cambio la práctica creativa, cómo converge con sus posibilidades, cuestiona su rumbo y diverge de su trayectoria; y exploraremos cómo nosotros, la comunidad internacional, cambiamos de forma tangible para el futuro.
Con este espíritu de cambio, hemos rediseñado nuestros formatos de sesiones para hacerlos más participativos y asegurar la mayor contribución posible de los expertos en nuestra red (con lo que nos referimos a usted). Entre ellos, contaremos con una sesión Lepak que reunirá a todos los delegados para explorar ideas de continuidad, tensión y cambio con un formato de world café; una serie de talleres participativos: Obrando Futuros dirigidos por profesionales de las artes, y mesas redondas y sesiones de casos de estudio. Los delegados también escucharán a líderes en el sector que compartirán sus conocimientos e incitarán a pensar de manera innovadora sobre problemas actuales.
Encontrará más información sobre el programa en línea
---
PARTICIPANTES EN EL PROGRAMA
Nos alegra enormemente publicar ya información sobre el primer grupo de oradores, panelistas, presentadores, provocadores, facilitadores y directores de talleres y agradecer el tremendo apoyo de los miembros de IPAC en la elaboración del programa.
Hasta ahora, contamos con una participación diversa e internacional con nombres como los siguientes:
Más información sobre nuestros oradores expertos y participantes en el programa está disponible en línea y les seguiremos informando a medida que se vayan anunciando nuevos participantes.
---
NUESTRO LUGAR DE ENCUENTRO
En el corazón del Sudeste Asiático, Malasia es un puente entre Asia continental e insular y puerta de entrada a la región. Su diverso paisaje cultural integra tres de las más antiguas civilizaciones asiáticas, la malaya, la china y la india, así como a comunidades indígenas en Sabah y Sarawak. Kuala Lumpur es una ciudad moderna y vibrante que armoniza contrastes entre lo viejo y lo nuevo, con edificios de estilo morisco alzándose codo con codo con rascacielos imponentes. Recientes cambios sociales y políticos en el país, junto con semejante diversidad y contrastes hacen de Malasia un escenario adecuado para explorar temas de cultura, conocimiento y cambio y profundizar en el conocimiento de la región.
La inauguración de la Cumbre tendrá lugar en los Jardines Botánicos Perdana, dentro del Parque de Patrimonio de la ciudad, y los delegados tendrán la oportunidad de explorar el patrimonio, las artes y la cultura local en el programa cultural.
Lea más aquí sobre Malasia y Kuala Lumpur, la ciudad sede
---
LA GENTE
La Cumbre es, sobre todo, su gente. Se reunirán responsables de políticas públicas, investigadores, gestores y profesionales del sector de las artes y la cultura de todo el mundo para analizar temas de fundamental importancia y examinar cómo gobiernos, instituciones culturales, profesionales creativos y ciudadanos pueden trabajar juntos —y cómo lo están haciendo— para liderar activamente el cambio. Son los contactos personales, las colaboraciones y los intercambios profesionales los que lo hacen posible y la Cumbre es una rara oportunidad para conocer a gente con la misma visión y reforzar su red de relaciones.
Esperamos contar con usted entre la gente que contribuirá a este diálogo clave y será el motor de un cambio positivo para nuestro sector.