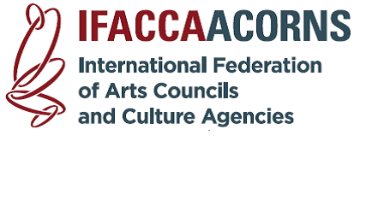 (EN & ESP)
ACORNS 372: Participation of people with disability in the arts
February has kicked into high gear as arts councils and ministries of culture around the world release new policies and projects. In Chile the National Council of Culture and the Artslaunched the country's National Culture Policy 2017-2022; in the USA the National Endowment for the Arts launched cross sector research projects and in Australia the Department of Communications and the Arts has announced plans for the national rollout of an arts and disability portal which maps disability-inclusive art programmes and experiences in regional and metropolitan Australia.
The need for global conversations around the participation of people with disability in the arts and inclusive policies for artists, audiences and arts workers has been further highlighted in international headlines. The Arts Council of Wales has published a practical guide on how to make work more inclusive for deaf, deafened and hard of hearing visitors and participants; the National Secretariat of Culture in Paraguay has confirmed its commitment to inclusive policy for arts workers in public institutions; and in the USA the Smithsonian Institution has explored how museums are becoming more sensory-friendly for those with autism. Meanwhile in England the Bournemouth Symphony Orchestra has become the first symphony orchestra in the world to have a professional ensemble led by musicians with disability; and in China the Disabled People's Performing Arts Troupehas garnered a global audience.
Global conferences this year also reflect international conversations on the arts and disability. In Mexico last month, the British Council presented the Third International Meeting on Art and Disability. While in March, in Chile the first international Deaf Art Meeting will be held; in Singapore the National Arts Council will host the inaugural Arts and Disability International Conference 2018; and in Korea, the year-long UK/Korea 2017-18 Creative Futures will end with the Festival of Arts and Disability: Beautiful Differences at the Arts Council of Korea's ARKO Arts Theatre.
As always, if you have news that you would like us to share, please contact us at[email protected].
---
ACORNS 372: La participación en las artes de personas con discapacidad
Febrero va a todo tren con los nuevos proyectos y políticas que están anunciando los consejos de las artes y los ministerios de cultura de todo el mundo. En Chile, el Consejo Nacional de la Cultura y las Artes ha presentado la Política Nacional de Cultura 2017 – 2022; en los Estados Unidos la Fundación Nacional para las Artes (NEA) ha puesto en marcha proyectos de investigación transdisciplinarios y en Australia el Departamento de Comunicaciones y Artes ha anunciado planes para la puesta en marcha de un portal web sobre artes y discapacidad que sitúa en el mapa experiencias y programaciones artísticas respetuosas con las discapacidades en toda Australia, tanto en las ciudades como en el ámbito regional.
La necesidad de diálogo sobre la participación en las artes de personas con discapacidades y de políticas inclusivas para artistas, públicos y profesionales de las artes ha sido un tema relevante en los titulares internacionales. El Consejo de las Artes del País de Gales ha publicado una guía práctica sobre cómo acercar la obra artística a visitantes y participantes sordos, ensordecidos y duros de oído. La Secretaría Nacional de Cultura de Paraguay ha confirmado su compromiso con una política inclusiva para los trabajadores de las artes en las instituciones públicas; y en los Estados Unidos, la Institución Smithsonian ha explorado cómo los museos se están abriendo sensorialmente a las personas con autismo. Mientras tanto, en Inglaterra la Orquesta Sinfónica de Bournemouth es la primera orquesta sinfónica del mundo en tener un conjunto profesional de músicos con discapacidades, y en China la Compañía de Artes Escénicas de Personas Con Discapacidad se ha ganado una audiencia global.

Diversos congresos este año reflejan también el diálogo internacional sobre artes y discapacidad. En México, el British Council presentó el mes pasado el Tercer Encuentro Internacional de Arte y Discapacidad, mientras que en Chile se celebrará el próximo mes de marzo el primer Encuentro internacional de Arte Sordo. En Singapur, el Consejo Nacional de las Artes acogerá la primera edición del Congreso Internacional de Artes y Discapacidad 2018, y en Corea, el Año Reino Unido/Corea 2017-2018 Futuros Creativos concluirá con el Festival de las Artes y Discapacidad: Hermosas diferencias, en el Teatro de las Artes del Consejo de las Artes de Corea, ARKO.
Como siempre, si tiene noticias que desearía compartir, póngase en contacto con nosotras escribiéndonos a [email protected].