This June, we say goodbye and thank you to the current Chair of the IFACCA Board, Simon Brault O.C, O.Q, Director and CEO of the Canada Council for the Arts. Mr Brault has served on the Board since October 2016 and was elected Chair in March 2019. His expertise, vision and leadership have been vital to the Federation's work to lead global thought and action on arts and culture in public life, and ultimately to realise our members' shared vision of a world in which arts and culture thrive and are recognised by governments and peoples for their contribution to society. Here is Mr Brault's farewell reflection piece.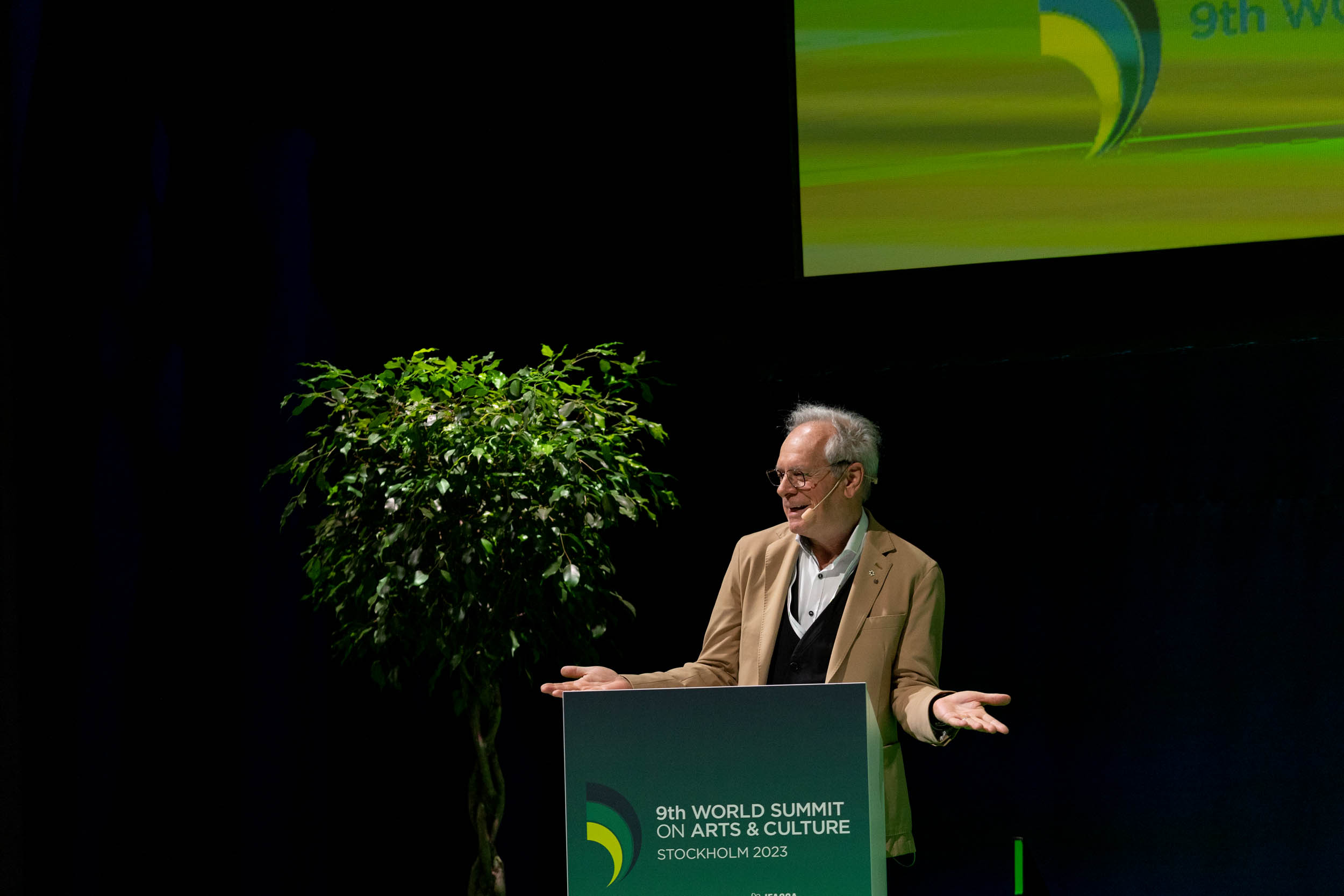 Photo: Susanne Kronholm
Dear colleagues and friends,
As I prepare to step down as the Chair, having had the honour and pleasure of serving for the past four years, I would like to share a few thoughts about IFACCA's key role in advancing the sustainable development of arts and culture.
The world is an immense, complex, unequal, divided, distressed and beleaguered place, primarily due to the climate crisis and far too many armed conflicts. Yet, the world is also home to irresistible forces that are changing it for the better. These forces are to be found, first and foremost, in communities and individuals of every origin, background, circumstance and ambition who are daily striving for inclusion, justice, dignity, decolonization, emancipation, peace and beauty, and who aspire to live in harmony with nature and their fellow humans. Life-affirming forces will always be more powerful than interests that seek to degrade, impoverish, control or erase life. Artistic creation is just as inextinguishable as life itself, and humanity's cultural heritage, whether tangible or intangible, is ample proof of this.
Most of my term as Chair unfolded during the global COVID-19 pandemic that drastically disrupted the lives of hundreds of millions of people and bereaved far too many families and communities. However, IFACCA's response to this tragic moment on behalf of its members was a magnificent expression of solidarity and reinvention—for the federation and for each and every one of us. After being compelled to stop travelling and to communicate virtually instead, we succeeded in reducing the world to a more accessible scale for us all. We heard more from people whose means and freedom to travel for face-to-face meetings before the pandemic were limited—much as they remain today. We held more meetings, exchanged more ideas and experiences, and shared more resources and knowledge among our members on every continent. And with the pandemic starkly exposing systemic issues and the vulnerabilities of policies and cultural systems in every country, IFACCA was able to address the major issues affecting the vast majority of its members in spite of their disparate contexts. In fact, because of the pandemic, ties were strengthened, discussions expanded, and response times shortened. IFACCA made a significant contribution to overcoming the isolation experienced by the heads of arts and culture funding organizations and to bolstering the arguments that each of us needed in our respective countries to convince governments to do more and do better.
The pandemic transformed the IFACCA network into a true community of thought and action, which is exactly what I observed and deeply experienced at the 9th World Summit on Arts and Culture in Stockholm in May. The hundreds of delegates from the four corners of the planet were much more at ease with each other than before and interacted at strategic, intellectual and emotional levels that I had not witnessed at previous summits. Not only in workshops and at talks but also in corridors, during breaks and in elevators, there was a spirit of congeniality and a genuine sense of belonging that is very promising for IFACCA's immediate future and its growing impact.
Although our common cause and daily workloads are demanding, our strenuous efforts are highly commendable as we strive to continue captivating a world that needs delight and wonderment now more than ever.
My final words of appreciation are for my wonderful colleagues who have served as Board members over the last four years, for Magdalena Moreno Mujica, who directs the IFACCA Secretariat's brilliant team in such a caring and intelligent way, and for our dear Kristin Danielsen to whom I confidently and proudly hand over the reins.
*Available in English, Spanish and French.
---
The actionable ideas of Simon Brault
We are not alone, nor should we resolve systemic problems on our own or through abstract solutions. They must be stimulating, inspiring, grounded, inclusive – at times challenging – and above all actionable; and we must start with our own actions. This is at the heart of what Simon Brault has brought to the Federation and to our shared leadership of IFACCA: to lead by example.
I thank you profoundly for all your incredible dedication over these years. It has been an amazing partnership and complicity to make the world a better place for all with concrete actions. Little did we know that we would confront a pandemic together, having to rethink almost everything to be tangible and purposeful. Your wisdom, kindness, boldness, intelligence, and determination as an agent of positive change has been a beacon of light for us all. You have instilled an ethos that is rigorous, yet playful and open, and most importantly actionable. This will remain embedded in IFACCA.
À bientôt, hasta pronto, and see you soon not goodbye
Magdalena Moreno Mujica
Executive Director
---
Continuing the conversation on artistic freedom

For those of you who were unable to join us at the Summit and for those delegates would like to refresh your memory, you can access the video recordings of the plenary sessions from all three days of the 9th World Summit on Arts and Culture here. These include In Conversation sessions between pairs of invited speakers in a lively discussion about each day's theme; Provocation and Response Panels on the many dimensions of the complexity of artistic freedom and on bridging the gaps between rights and responsibilities; the Final Plenary: Pathways, Tools and Resources to Advance Artistic Freedom as well as Reflections from the Summit Rapporteurs. Please feel free to pass these along to colleagues who may be interested. We look forward to continuing these important conversations on artistic freedom alive.
Nuestro papel es el de seguir cautivando al mundo​
Este mes de junio nos despedimos del presidente de la Junta Directiva de IFACCA, Simon Brault, Oficial de la Orden de Canadá y de la Orden Nacional de Quebec, y director y CEO del Consejo de las Artes de Canadá. El Sr. Brault ha formado parte de la Junta desde 2016 y fue elegido presidente en marzo de 2019. Su experticia, visión y liderazgo han sido fundamentales en la labor de la Federación por liderar el pensamiento y la acción globales sobre las artes y la cultura en la vida pública y, en última instancia, para hacer realidad la visión compartida de nuestros miembros de un mundo en que las artes y la cultura prosperen y gocen del reconocimiento de gobiernos y personas por su contribución a la sociedad. Les presentamos una reflexión del Sr. Brault a modo de despedida.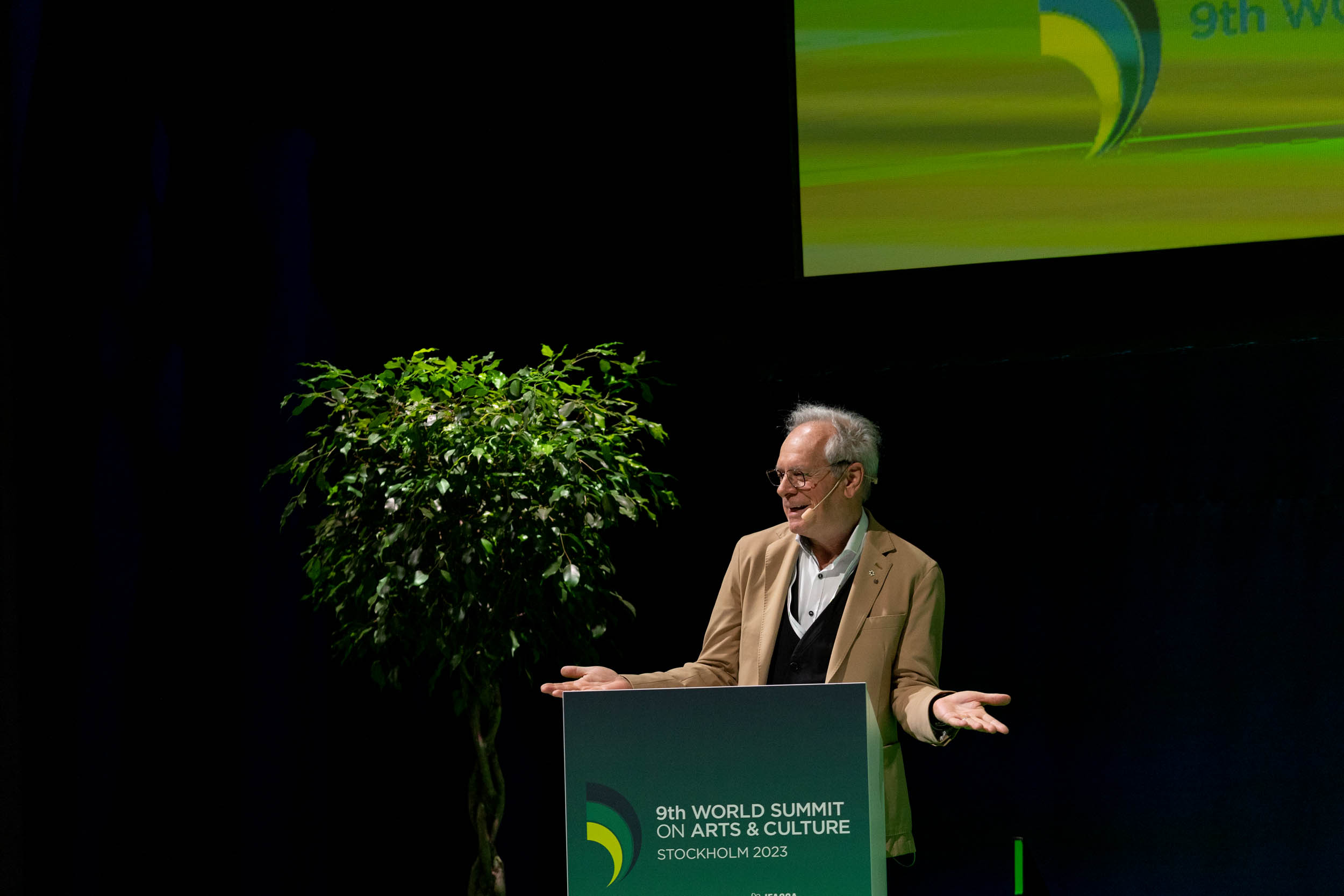 Photo: Susanne Kronholm
Estimados/as colegas y amigos/as:
Antes de despedirme como presidente, cargo que ha sido un honor y placer ostentar en los últimos cuatro años, me gustaría compartir algunos pensamientos sobre el papel clave de IFACCA en el desarrollo sostenible de las artes y la cultura.
El mundo es un lugar inmenso, complejo, desigual, dividido, ansioso y atribulado, debido sobre todo a la crisis climática y al exagerado número de conflictos armados. Sin embargo, el mundo también alberga fuerzas irresistibles que lo están transformando a mejor. Estas fuerzas se encuentran, en primer lugar, en las comunidades e individuos de todos los orígenes, circunstancias y ambición que luchan diariamente por la inclusión, la justicia, la dignidad, la descolonización, la emancipación, la paz y la belleza, y que aspiran a vivir en armonía con la naturaleza y con los demás seres humanos. Las fuerzas que apuestan por la vida siempre serán más poderosas que los intereses que buscan degradar, empobrecer, controlar o borrar la vida. La creación artística es tan inextinguible como la vida misma, y buena prueba es de ello el patrimonio cultural de la humanidad, tanto tangible como intangible.
La mayor parte de mi mandato como presidente se ha desarrollado durante la pandemia global del COVID-19 que alteró drásticamente las vidas de cientos de millones de personas y dejó a tantas familias y comunidades sin sus seres queridos. La respuesta de IFACCA, en nombre de sus miembros, a este trágico momento fue una magnífica expresión de solidaridad y reinvención, tanto para la Federación como para todos/as y cada uno/a de nosotros/as. Tras habernos visto obligados/as a dejar de viajar y comunicarnos virtualmente, conseguimos reducir el mundo a una escala más accesible para todos/as. Pudimos escuchar a personas que antes de la pandemia tenían medios y una libertad restringidos para viajar a reuniones en persona, como continúa siendo el caso. Nos reunimos más, intercambiamos más ideas y experiencias, y compartimos más recursos y conocimientos con nuestros miembros en cada continente. Cuando la pandemia puso al descubierto problemas sistémicos y la vulnerabilidad de las políticas y los sistemas culturales en cada país, IFACCA fue capaz de abordar los problemas comunes a la gran mayoría de sus instituciones miembros a pesar de la disparidad de los respectivos contextos. De hecho, gracias a la pandemia se reforzaron los lazos de contacto entre los miembros, se ampliaron los debates y se acortó el tiempo de respuesta. IFACCA contribuyó sustantivamente a superar el aislamiento de los/as líderes de las organizaciones de financiamiento de la cultura y a impulsar los argumentos que necesitábamos en nuestros países respectivos para convencer a nuestros gobiernos de obrar más y mejor.
La pandemia transformó la red IFACCA en una verdadera comunidad de pensamiento y acción, que es exactamente lo que pude observar y sentir con fuerza en la 9ª Cumbre Mundial de las Artes y la Cultura en Estocolmo en mayo. Los cientos de delegados/as de las cuatro esquinas del planeta se sentían más cómodos/as que antes e interaccionaron a niveles estratégicos, intelectuales y emocionales que yo no había visto en cumbres anteriores. No solamente en los talleres y charlas, sino también en los pasillos, en los descansos y en los ascensores, estaba presente un espíritu de colegialidad y un sentido auténtico de pertenencia muy prometedor para el futuro inmediato de IFACCA y su creciente impacto.
Aunque nuestra causa común y nuestra carga de trabajo diaria son exigentes, nuestro arduo esfuerzo por cautivar un mundo que necesita del deleite y el asombro ahora más que nunca es muy digno de elogio.
Mis palabras finales de aprecio son para mis maravillosos/as compañeros en la Junta Directiva en los últimos cuatro años, para Magdalena Moreno Mujica, que dirige el fantástico equipo del Secretariado de IFACCA de manera tan afectuosa e inteligente, y para nuestra querida Kristin Danielsen a quien, con orgullo y plena confianza, cedo las riendas.
*Disponible en inglés, francés y español
---
Las ideas accionables de Simon Brault
Ni estamos solos/as, ni deberíamos resolver problemas sistémicos por nuestra cuenta o mediante soluciones abstractas. Las soluciones deben ser estimulantes, inspiradoras, sólidas, inclusivas, desafiantes en algunas circunstancias y, sobre todo, accionables, y debemos empezar con nuestras propias acciones. Este es el núcleo de lo que Simon Brault ha aportado a la Federación y a nuestro liderazgo compartido de IFACCA: liderar con el ejemplo.
Le agradezco profundamente su increíble dedicación estos años. Ha sido una colaboración fantástica y llena de complicidad para hacer del mundo un espacio mejor para todos/as mediante acciones concretas. No teníamos idea de que nos enfrentaríamos juntos a una pandemia, de que tendríamos que repensarlo casi todo para hacerlo tangible y lleno de sentido. Su sabiduría, su amabilidad, su osadía, inteligencia y determinación como agente para un cambio positivo ha sido un faro de luz para todos/as nosotros/as. Ha inspirado una ética rigurosa y lúdica a la vez, abierta y, lo más importante, accionable, que continuará formando parte de IFACCA.
À bientôt, see you soon y hasta pronto, que no adiós,
Magdalena Moreno Mujica
Directora Ejecutiva
---
Seguimos el diálogo sobre la libertad artística
Para todos/as los/as que no pudieron acompañarnos en la Cumbre y para los/as delegados/as que quieran refrescar la memoria, pueden acceder aquí a los vídeos de las sesiones plenarias de los tres días de la 9ª Cumbre Mundial de las Artes y la Cultura. Los vídeos incluyen las sesiones En conversación, entre pares de ponentes analizando con brío el tema del día; Paneles de provocación y respuesta, sobre las muchas dimensiones de complejidad de la libertad artística y sobre cómo cerrar la brecha entre derechos y responsabilidades; el Plenario final: caminos, herramientas y recursos para promover la libertad artística, así como las Reflexiones de los relatores de la Cumbre. Le invitamos a compartirlos con sus colegas profesionales que puedan estar interesados y esperamos continuar en vivo estas importantes conversaciones sobre la libertad artística.